Top 10 Street Food Spots to Try while Studying Abroad in London (Part 2)
As one of the most exciting capitals in the world, London not only offers some of the nation's top universities for studying abroad, but also has thousands of restaurants, markets, food trucks and street stalls that reflect the city's vibrancy. When you're ready to experience the best the city has to offer on a budget, it's the streets you need to hit.
 
Here are 5 of the top 10 street food stalls for you to explore, from grilled cheese and lobster rolls to vegan wraps, hipster food carts to age-old street side institutions – here's part 2 of 2 – make sure not to miss them when you're studying in London.
The Rib Man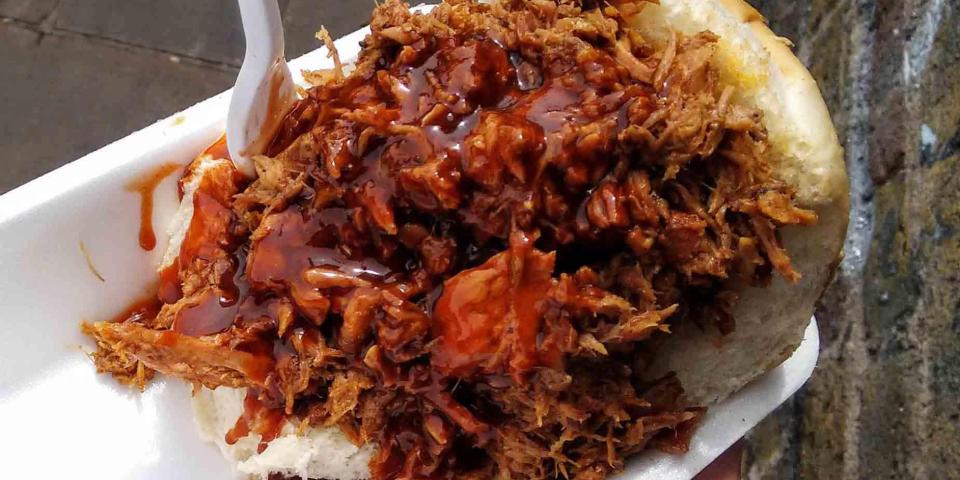 This little food stand is surely one of the most talked about street food vendors in London. The one-legged rib master sells his smoky, succulent baby back pork ribs drizzled with his homemade hot sauce called Holy Fuck, and with floury buns. Be sure to give it a go and get there early.
Where? Brick Lane, Outside London Stadium (before every West Ham football club home game)
More information: theribman.co.uk or @theribman
Fin and Flounder
Shrimp, lobster, tuna… not exactly typical street food. For foodies on a budget, this street food joint inside Broadway Market is definitely not one to miss. Enjoy fresh oysters shucked in front of you, panko-breaded king prawns with a sweet chili dipping sauce, or a lobster roll with juicy Scottish lobster served in a freshly-baked brioche bun.
Where? Broadway Market
30 minute tube ride from the University of Arts, London
More information: finandflounder.co.uk or @finandflounder
Laffa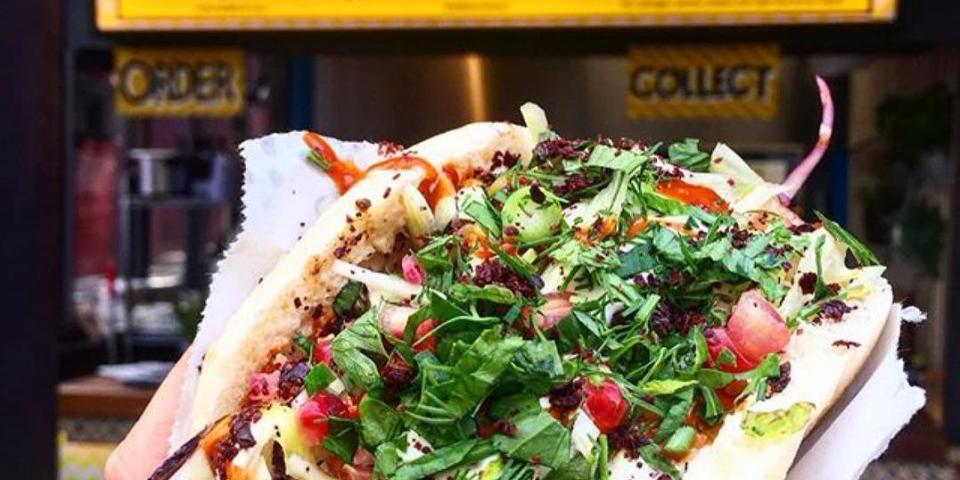 This vegan-friendly food truck at Flat Iron Square sells Middle Eastern-style wraps and salads. The name comes from the word for Lebanese flatbread. You'll be able to find this food truck easily, with its appealing light blue color and hipster design. The food brings customers back again and again. On the menu, there are salads, slaws and marinated meats wrapped in laffa flatbread. You can also find vegan options such as the Grilled Summer Vegetable Wrap, with veggie sumac slaw, rocket and pomegranate salad, tahini sauce, chili and herbs all wrapped in a Lebanese flatbread.
Where? Flat Iron Square
More information: laffafood.com or @laffastreetfood
The Piadina Project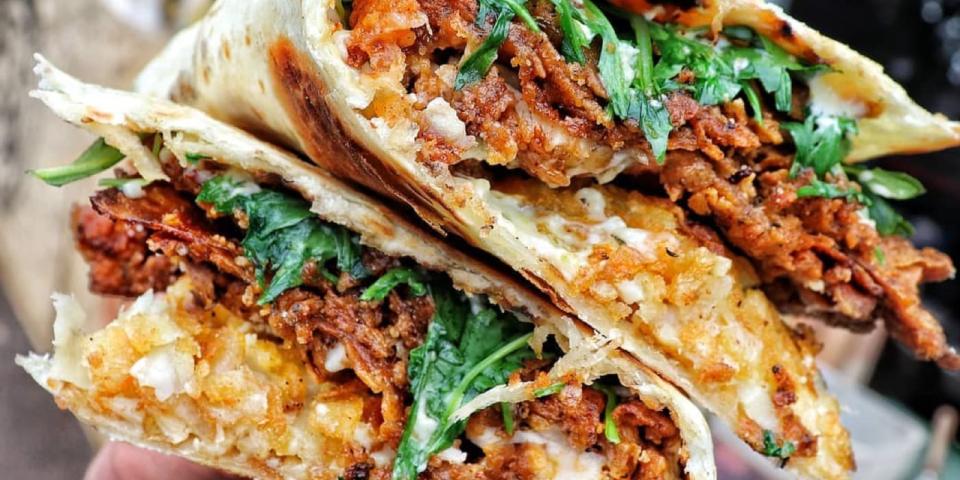 Fried chicken? Yes, please! This street food vendor not only sells its specialties at local food markets, but also roams around cool music festivals such as Glastonbury. Try The Hot Honey with a fried chicken thigh, hot honey, pickled cucumber, and smoky bacon mayo, and their Lincolnshire special with local sausage, burrata cheese, streaky bacon, and wasabi rocket.
Where? Kentish Town, The Rose Crown
More information: thepiadinaproject.co.uk or @thepiadinaproject
Meltsmiths
The grilled cheese sandwich is a classic Western comfort food. America's grown up eating this with tomato soup. However, this is not your standard grilled cheese sandwich spot – Meltsmiths is creating masterpieces, with just the right ingredients and grilling tricks. Try The Classic with its combo of mature cheddar, mozzarella and onion jam, and you'll understand why people are so crazy about simple bread and cheese sandwiches. There's also Ham About Town with mature cheddar, mozzarella, Wiltshire ham and English mustard; and Spice Boy with cheddar, red Leicester, Sriracha, jalapeño and crispy fried onions if you fancy a hot kick. Don't skip the sweet potato fries with Stilton mayo and Frank's RedHot sauce!
Where? Victoria Park Market, Kerb (locations vary) Make a day of it! Visit Victoria Park and check out live music.
More information: meltsmiths.co.uk or @Meltsmiths