On February 17th, SAF was honored to attend the 23rd China Annual Conference & expo for International Education (CACIE) at the General Assembly Exhibition Center in Beijing, a forum to explore the theme of the "Complex and Changing International Environment and International Student Mobility: Recovery, Trends and Innovation."
SAF joined more than 4,300 education officials, envoys, and representatives from 52 countries to exchange ideas and explore how to reignite the desire in Chinese students to study abroad following the pandemic.
Cooperation rang out as the dominant theme, with attendees in agreement that international exchanges are crucial.  SAF presence at the 23rd CACIE conference made national news. The China Youth Daily, a youth oriented national publication, quoted SAF leadership in their coverage.
Carol Carmody, Senior Associate Vice President of SAF, said, "We have to spend a lot of time making up for the isolation caused by the epidemic. Our work has never been more important than now."
"Without the opportunity to study abroad in the 1980s, I would not have been able to fully understand our interconnectedness, shared aspirations and goals, and the barriers of isolation that still exist," she said.
Amber Mercier, Vice President of Strategy, New Business Initiative and Analytics of SAF and IES Abroad agreed: "Under the complicated international environment, we need more mutual communication, respect, and understanding."
Study abroad is back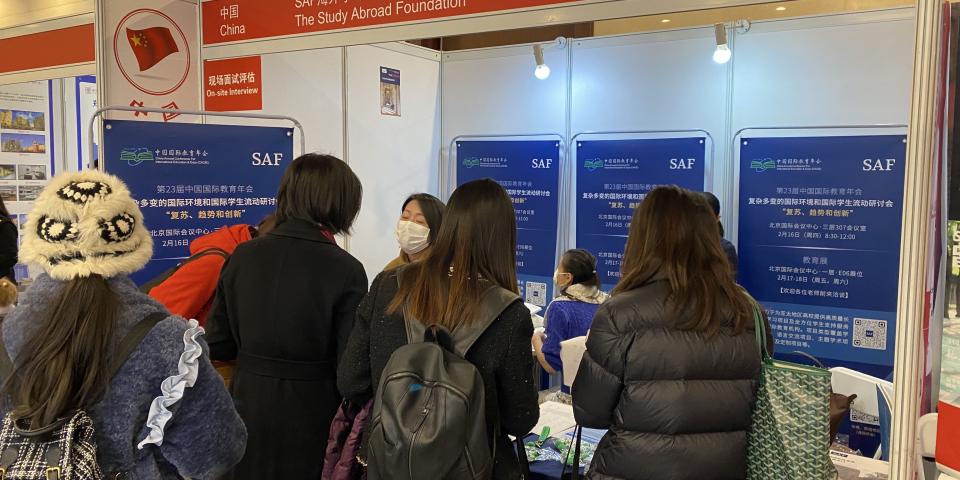 The multi-national study abroad market has returned to pre-pandemic levels, and the demand for exchange programs has rebounded significantly.
According to data provided by the Cultural and Educational Office of the British Embassy in China, the number of Chinese student visas issued for applying to study in the UK in 2021 has returned to pre-pandemic levels, with 115,056 student visas granted to Chinese nationals in the last 12 months.
And SAF data tells a similar story: Japan and South Korea enrollment in SAF exchange programs have rebounded past pre-pandemic levels. SAF warmly welcomes a return to student international mobility within China as well.