The Weirdest British Dishes
Autumn (what the Brit's call fall) is the time to try Britain's more traditional and more ridiculously named dishes. I mean, fish and chips are obvious, right? But toad in the hole or bubble and squeak might puzzle even the biggest Anglophone.
As the rain sets in and the clouds adopt their winter grey, Brits turn to comfort food. Yes, it was once a country renowned for its nondescript, tasteless mush, but now there's international food in the supermarkets, cooking shows on every TV channel, and it's in the global top ten for Michelin-star restaurants. The Brits love to eat. And those traditional favorites are enjoying a renaissance, using great produce, interesting twists, and updated family recipes.
Bangers and mash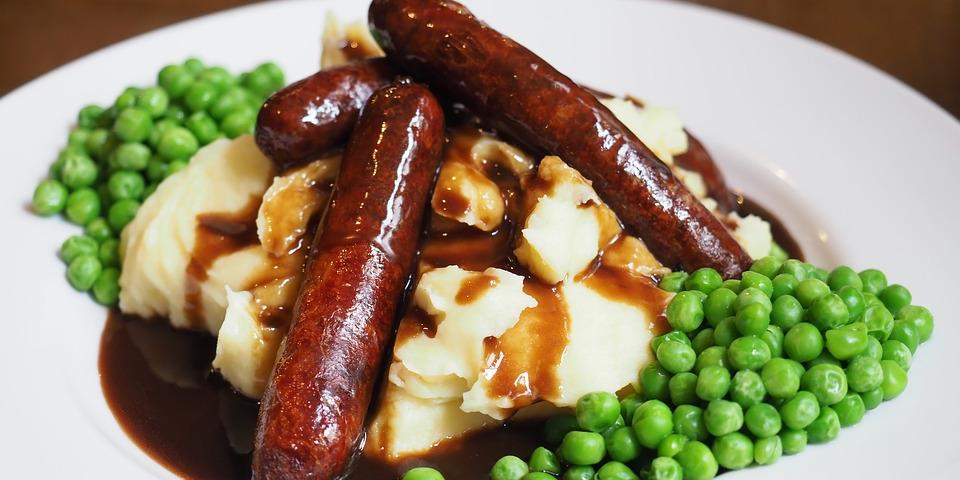 Bangers and mash, at its most basic, is a plate of sausages (known as bangers because they used to split when cooked) and a pile of mashed potato. But the Brits do love to tinker (attempt to improve things) with recipes.
So you might have bangers and mash with an onion gravy; the mash might have in it cheese, sweetcorn, mustard, cabbage, or anything else the cook can find in the fridge that might add a little interest.
The bangers, though, are often a huge source of pride. Yes, you can cook bangers and mash with everyday supermarket sausages, but every local butcher has his own secret sausage recipe, and many towns and counties have sausages very specific to them (look out for Cumberland sausages, Lincolnshire sausages). Not all sausages are equal.
Yorkshire pudding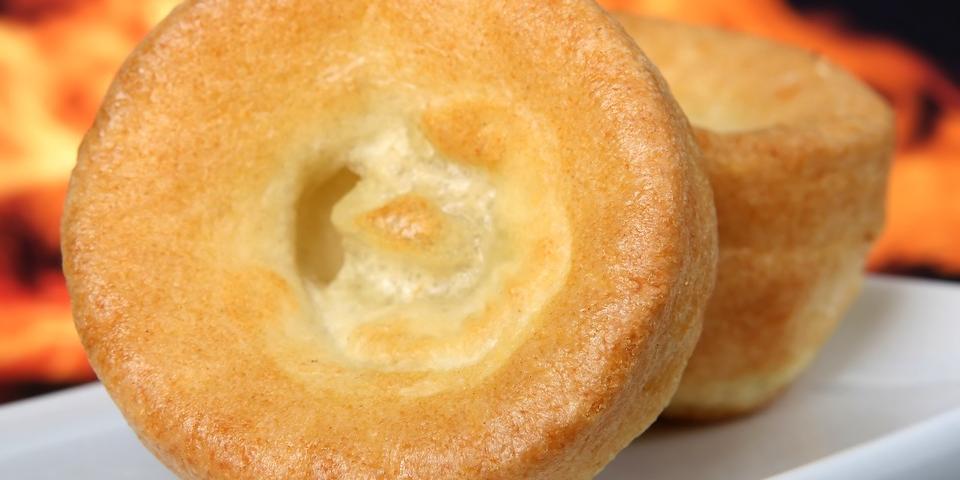 Yorkshire pudding is not a desert. Let's clear that up immediately. The Yorkshire pudding starts out as a pancake batter (milk, flour, eggs), but instead of frying it in a pan, cook drops the batter into very hot fat in an oven dish and leaves it cook at a high temperature for about 20 minutes until it rises into little towers of delight, a little like Japanese Takoyaki.
Yorkshire puddings are an exciting part of the famous Sunday roast, served alongside a mountain of vegetables, roast potatoes, and roast meat.
Toad in the hole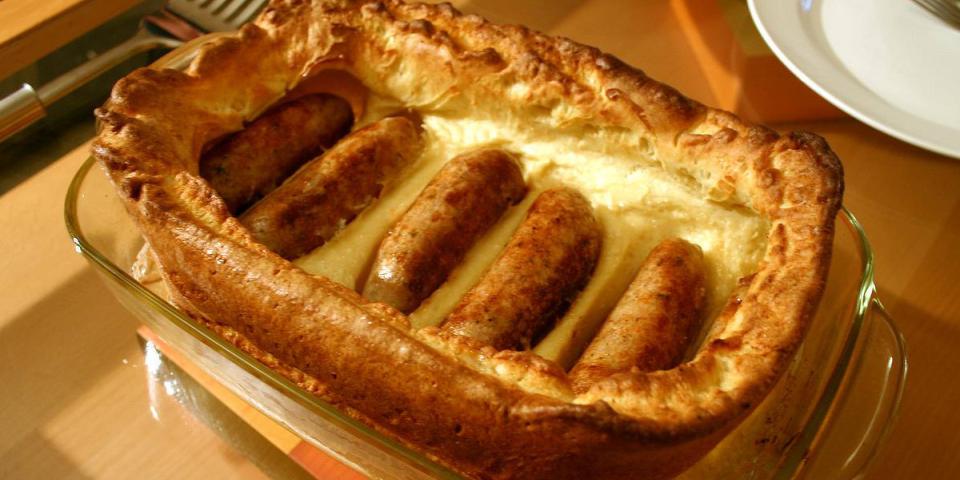 Bring together Yorkshire pudding and bangers and mash and you have toad in the hole. No amphibians to be seen, though.
After cooking the bangers in the oven for a while, the cook adds oil to the tin, turns the heat up, then pours the batter into the tin, covering the bangers. Add a pile of mash, greens, and onion gravy, and you have a British favorite.
Shepherd's pie and cottage pie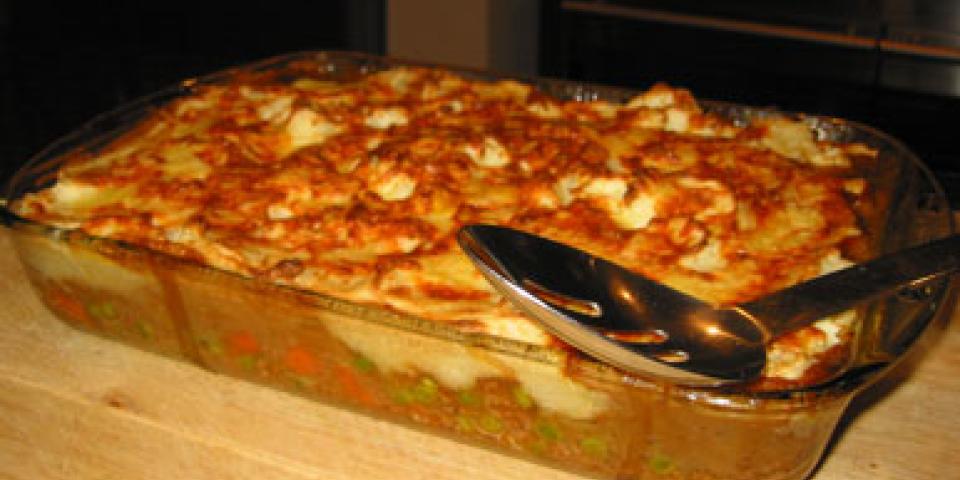 A layer of minced meat, carrots, and peas in a gravy covered by (more) mashed potatoes. It's a real winter warmer and a comfort-food favorite, and it's one of those dishes that every family has its own recipe for—something a little special to make it their own.
The only fundamental difference between shepherd's pie and cottage pie is the meat: lamb is the base for a shepherd's pie, and it's beef for cottage pie.
Sunday roast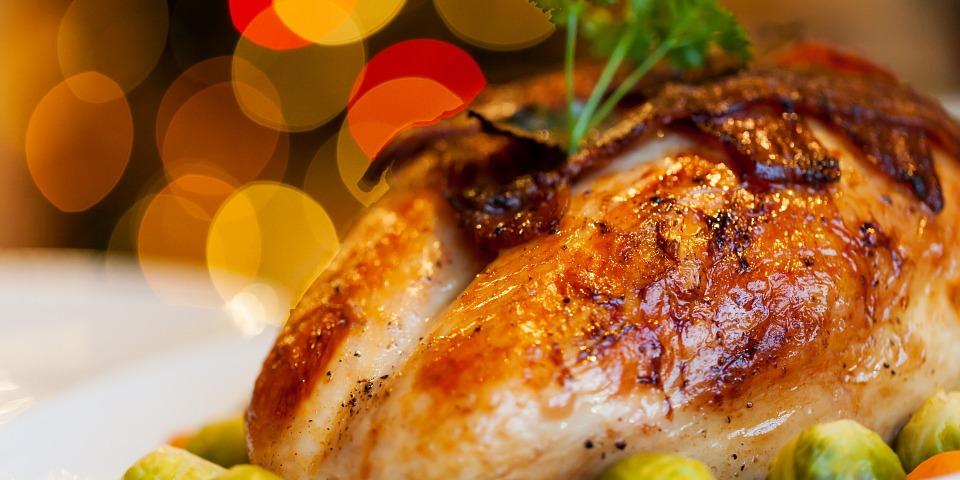 Roast meat is not a British invention, but the tradition of a Sunday roast very much is. The Sunday roast is an occasion; it gathers family and friends around a table heavy with vegetable side dishes (Yorkshire puddings, sprouts, roast potatoes, roast parsnip, carrots, leeks, chipolata sausages, cauliflower in a cheese sauce … the list goes on).
And taking pride of place is the carving board with a joint of meat. Traditionally—we're talking King Henry VII of the 15th century 'traditionally'—the meat was beef, but these days it could be chicken, lamb, or pork. Some people go with goose, duck, or turkey, but that's more around Christmas time. A nut roast is the perfect substitute for vegetarians.
Bubble and squeak
Possibly the most exciting sounding of the UK's weird-named food, bubble and squeak is a hotch-potch of all the Sunday roast leftovers, cut up and squashed into a skillet and fried as a patty with a delicious crust.
Because, with the best will in the world, the Sunday roast is about, every now and again, eating a bit too much, so there are always leftovers.
The name 'bubble and squeak' comes from the sounds it makes when it's cooking. It should be left to cook, not pushed around, so the squeaks come as the steam tries to escape from the top of the huge patty.